Version 6 Released!
PDF Snake 6.0 no longer requires Acrobat! In fact, it no longer requires a download.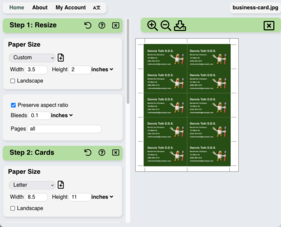 What is PDF Snake?
PDF Snake is online software for performing document imposition.
Tutorials provide gentle introductions to imposition and PDF Snake.
PDF Snake can:
make booklets,
impose (also called Nup or N-up) pages in a variety of configurations,
resize pages,
re-order pages,
and much more!
What version of Acrobat do I need?
None. Adobe Acrobat is no longer required as of PDF Snake version 6.
Are there any limitations?
PDF Snake cannot impose documents that are encrypted. Adobe Acrobat allows the creator of a PDF document to specify the exact permissions for that document. If modification is not allowed, then PDF Snake can't impose it.
PDF Snake cannot impose files that are larger than 1 GB. If you see memory errors with large files, try using the Firefox browser. It can handle larger files than Chrome, Edge, or Safari.
Next